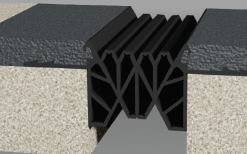 The stadium and arena systems available from Watson Bowman Acme do more than just ensure the necessary leeway for movement between rigid elements. They also protect the entire structure and thereby ensure its sustainability, while at the same time meeting the high aesthetic and functional demands of the project.
In heavily frequented areas, such as the spectator seating or the lounge areas of the stadium or arena interior, Watson Bowman Acme expansion joint systems provide a stable, secure, and water-tight seal of the joints between concrete elements.
In areas where aesthetics are paramount, such as the VIP boxes or suites, Wabo®Contour and Wabo®Allure expansion joint systems ensure smooth, almost invisible transitions in the wall, ceiling and floor areas. Because architectural finishes often require different colors and surfaces, these systems are the perfect fit for a variety
of uses, and do not stand out visually.
The package for the expansion joints may also include life safety systems. Life safety systems such as fire barriers were developed and tested to guarantee a structure's required fire resistance, minimize the spread of fire or smoke through joints, and accommodate dynamic movement.